Macarthur Astronomical Society
About Us
- We are amateur astronomers based in South Western Sydney, NSW, Australia. 
- We were formed in January 1996.
- Our mission is to foster the science of astronomy within our own membership and in the local community.
- We conduct the monthly Macarthur Astronomy Forum, held at Western Sydney University (Campbelltown Campus). 
- We arrange dark sky astronomy observing sessions and telescope workshops for our members.
- We hold community outreach events, including public viewing nights and lectures.
- We organise Astro-tours to inspect telescope facilities in Australia and overseas.


There's never been a more exciting time to be an astronomer!
Please visit our 'About Us' page for more details about our Society and see our 'Join MAS' page for benefits of membership.
For details of our current activities, please go to our 'Whats On' page.
---
Macarthur Astronomy Forum!
Next Event
Monday 19th September, 7.30 pm, Lecture Theatre, Building 30, Western Sydney University, Campbelltown. 
Please  see our Meetings and Events page for important details.
---
MAS Image of the Week
Perseid Meteors by Dr Ángel R. López Sánchez (AAO)
An MAS guest speaker in 2013 and 2015, Ángel took this stunning combined 24 frame image of 25 Perseid meteors in the Canary Islands.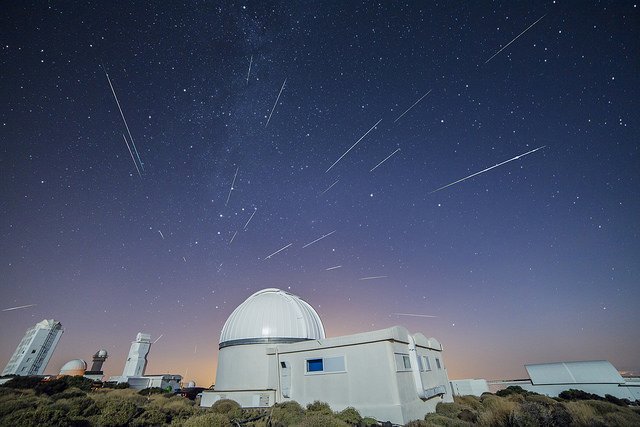 CANON EOS 5D Mark III with a Samyang 14mm lens, 30 seconds exposure at f/2.8 and ISO 800, taken on 12 August 2016 from the Teide Observatory (Tenerife, Canary Islands, Spain). The central dome is the Carlos Sánchez Telescope (TCS). The building at the right is the Quijote Experiment. The towers at the left belongs to the Solar Telescopes on site. The dome of the MONS Telescope is seen with some orange light.
In the background some light pollution from Santa Cruz de Tenerife and La Laguna can be seen (orange colours). The light pollution was enhanced because of the existence of dust in the atmosphere.
High resolution image > Here <
Image © Ángel R. López Sánchez (AAO). 
---
The Guinness World Record for the 'Highest Number of Stargazers Across Multiple Sites At One Time' is held by MAS jointly with ANU and 35 other sites across Australia.